Our Services
Trusted Garage Door Services In Houston TX Since 2005
Openers
We expert in all the garage door openers drive type: belt, screw, chain and direct, from the best manufactures on the market: Liftmaster, Chamberlain, Craftsman and more.
Installation
We specialise in all kinds of commercial and residential garage door installation services in Houston, ranging from installation of doors and panels to installation of other new parts.
Repair
Our team is a group of specialists that provide 24 hour garage door repair service in Houston TX. Due to the dedication and professionalism, we have created a loyal following with our clients.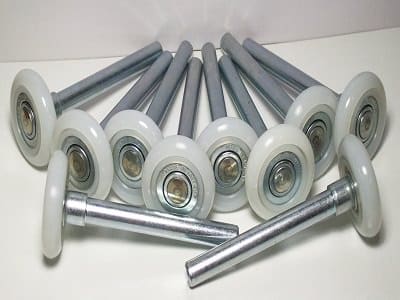 Rollers
Worn garage rollers can cause a lot of troubles to the your garage door functionality. Don't waste the time and call today to get a brand new OEM rollers.
Springs
A garage door springs is a very integral part of the your garage door and if it breaks then the repair becomes very difficult to be done. We change your spring to a new one.
Maintenance
A lot of the parts and even the door itself will get worn down and eventually get spoiled. To avoid this, maintenance services should be done on a regular basis.
Quality Garage Door Services In Houston, TX
Your garage is an important part of your home, so your garage door deserves the utmost attention when it comes to making sure it works properly. After all, you would not want your car to be stuck inside your garage or locked out of it. You want your day to start with a garage door that properly functions to let your car out and end your day with a garage door that will let you in. This is the intended purpose of a garage door. However, garage doors are not magical pieces of technological masterpieces that are immune to wear and tear. These things have the tendency to fail on you sometimes. While this cannot always be avoided, it is best to be prepared should these things happen.
Luckily for those in the Houston, Texas area, Garage Doors Houston can help you with all your garage door needs. This service is especially capable of providing emergency services to those who need their garage door fixed, repaired, or replaced as soon as possible, even late into the evening or on holidays.
With several garage door services Houston to choose from, know that you can trust a company that has had more than 10 years of experience repairing and servicing a wide variety of garage doors for plenty of satisfied customers. You can be assured of their professionalism and expertise, turning the breakdown of your garage door into a minor inconvenience rather than a major disaster. Know that when it comes to repair, installation, and maintenance, there is really only one choice.
Repair
A million things can go wrong with a garage door at any given moment. That is why you must have a trusty garage door service Houston for your home. Emergencies can happen at any time, and you need to be able to repair your garage door at a moment's notice. For example, if you find out something has gone wrong with your garage door late into the evening, then you need to be able to fix that right away, so that by morning, the problem will be fixed. One problem that often occurs with garage doors would be broken rollers. These wear out over time, leading to your garage door becoming significantly noisier. Garage door rollers must be replaced carefully, and it is best done at the hands of an expert, as an amateur may make the problem worse. Once it is fixed, the roller will be able to properly keep your garage door functioning.
Garage door cables are another problem that commonly affects garage doors. These cables carry a good portion of the weight of the entire garage door. Their movement dictates how the garage door opens and closes. Because it is so important, making sure it is in working order is even more important. When the cables break down, the garage door cannot function properly, and it becomes essential to avail of emergency garage door services Houston. Whether you are repairing specific parts of your garage door or replacing the entire thing, make sure to go to a service you can trust to properly do the job.
Installation
Aside from simply repairing garage doors, a good garage door repair service must also be able to install them in the first place. Unless you have a decent amount of handy skills that extends beyond fixing things around the house, getting your garage door installed is best done by hired professional. This is because getting it done right in the beginning could help prevent problems in the long run. If the installation job is botched, problems are soon to follow.
Our installation experts are more than happy to show you how the garage door works after it is installed, taking you through the process of operating it step by step. You even get to bring up any concerns you might have regarding your brand new garage door.
The experts can even help assist you in choosing which garage door to purchase, as well as any accessories you might want to install together with the garage door in order to better fit your needs.
You can even request assistance when it comes to personalizing and customizing your garage door for design or aesthetic purposes. For instance, would you like a garage door that opens in two parts, as oppose to three parts? Would you like a faux-wood finish or to give it a metallic finish? No matter what your request may be, we can accommodate it for you in order to keep you as happy about your garage door as possible.
Maintenance
While repairing your garage door is important, garage door service Houston is an ongoing process that involves taking care of your garage door as it endures wear and tear from constant use and exposure to the elements. Without the proper maintenance your garage door could end up deteriorating in quality sooner rather than later. This results in higher costs for you as a home owner.
With LY Garage Door Repair, the service comes even before repair. Your relationship with the company is an ongoing one. It involves having us assist you with every step of the way, making sure your garage door is sufficiently well-maintained, allowing you to sleep safe knowing that the necessary steps have been taken to keep your garage door functional.
For the most part, proper maintenance consists of keeping all the parts clean. There is also the issue of replacing small parts to make sure that they do not affect the whole mechanism of the garage door. Even the smallest parts of a machine can destroy it if it is not in the best condition. By constantly making sure that your parts are in working order, you protect the greater whole.
We will happily check on your garage door periodically to make sure if anything needs to be fixed. By checking up on it every once in a while, your garage door will stay in the best working order, allowing you to spend less in the long run.